Dr. Gregory Welch AdventHealth Endowed Chair
Simulation
University of Central Florida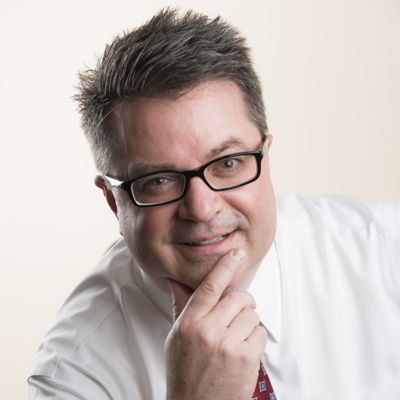 Gregory Welch is a Professor and the AdventHealth Endowed Chair in Simulation at the University of Central Florida (UCF), with appointments in the College of Nursing, the Department of Computer Science, and the Institute for Simulation & Training, and is a Co-Director of the Synthetic Reality Laboratory. He is also an Adjunct Professor of Computer Science at the University of North Carolina at Chapel Hill. He received a B.S. degree in Electrical Engineering Technology from Purdue University in 1986, with Highest Distinction, and a Ph.D. in Computer Science from the University of North Carolina at Chapel Hill in 1996. Prior to UCF he was a Research Professor at UNC, he worked on the Voyager Spacecraft Project at NASA's Jet Propulsion Laboratory, and on airborne electronic countermeasures at Northrop-Grumman's Defense Systems Division.
He conducts research in areas including virtual and augmented reality, human-computer interaction, human motion tracking, and human surrogates for training and practice, with a focus on applications such as healthcare and defense. He has co-chaired numerous international conferences, workshops, and seminars in these areas, co-authored over 150 associated publications, is a co-inventor on multiple patents, and has jointly procured and directed multi-disciplinary and multi-institution research contracts and grants totaling well over $25 million. His awards include the 2018 IEEE Virtual Reality Technical Achievement Award, a 2017 UCF Luminary Award, a 2017 UCF Research Incentive award, and the 2016 IEEE International Symposium on Mixed and Augmented Reality's Long Lasting Impact Paper Award.
He is presently serving on the World Economic Forum's Global Future Council on Virtual Reality and Augmented Reality, the National Council of Architectural Registration Boards' Future Task Force, as an Associate Editor for the journals Presence: Teleoperators and Virtual Environments and Frontiers in Virtual Environments, and as an expert consultant/witness on intellectual property matters. He is a Senior Member of the Institute of Electrical and Electronics Engineers, and a Member of the UCF Chapter of the National Academy of Inventors, the Association for Computing Machinery (ACM), the European Association for Computer Graphics, the Southern Nursing Research Society, the International Nursing Association for Clinical Simulation & Learning, and the Society for Simulation in Healthcare. He is an ACM SIGGRAPH Pioneer and serves as an IEEE Technical Expert for Virtual, Augmented and Mixed Reality. He maintains an internationally-recognized web site dedicated to the Kalman filter, and his 1995 introductory article on the subject has been cited over 8500 times.